View cart
"Pawmeal Trial Plan © at 25% Off ($48 for 200g x 8 packs) for First-Time Users (Use code 'iampawmealdog' at checkout)" has been added to your cart.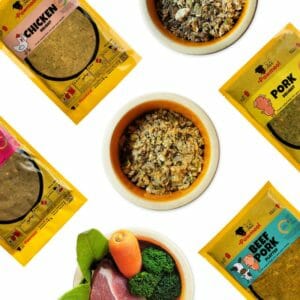 Back to products

Pawmeal Pork Delight
From $34.00 — or subscribe and save up to 15%
Pawmeal Single Protein Pork Delight contains high quality lean pork sourced from trusted human-grade ingredients suppliers to offer your dog equal goodness as what we humans are eating. A well-liked recipe by many dog owners with dogs experiencing allergy towards many meat proteins!
Enjoy up to 15% off for bulk purchase and subscribe 12 months for an additional 15% (Total 30%!) off! (See how much you can save by playing around with the subscriptions below).
80g or 200g standard pack options available! For dogs with little or no food allergies, you can choose Pawmeal Assorted Mixed Flavours so your dog can enjoy a variety of recipes in each delivery!
Got any question? Check out the most common questions that our customers have for us here. 😘
Please note that we deliver on every weekend (Friday evenings to Sundays), for now. If you need urgent delivery, please let us know by emailing us or messaging us. We will do our best to make special delivery arrangements or suggest alternative options. Thank you for your understanding!