Here, you can find the most common / frequently asked questions that our pawrent customers and friends have. Let us know if you cannot find your answers here! Simply email us at hello@pawmeal.com. ❤
Who / What is Pawmeal ah? 🙄
Just like you, we are pet parents too. We know that most pet parents would love to give their best to their furkids (what about you?). We advocate feeding fresh healthy meals like home cooked food to pets so they can live happier and longer. It is as simple as that (for now 😉).
For furkids, by pawrents.
Why did we start Pawmeal?
Because our pets mean the world to us! And we know your pet means the whole world to you too. So here we are to help you provide the best food for your furkid.
How long have you been providing all these wholesome food to pets?
We began our journey since mid 2016, and only started selling towards the end 2017 (almost 9 months of research, consultations with veterinary institutions, practitioners and certified pet nutritionists both local and overseas). Pawmeal 2.0 is into her 3rd year in 2021!
Read more about our Pawmeal story here. 🤗
What benefits do you offer?
We formulate, prepare and serve 8 different healthy recipes that are gently cooked, vacuum sealed and frozen for your dogs. Our fresh cooked food comes in standard packs of 80g / 200g (Standard Pawmeal). Your dog eats healthier, becomes happier and lives longer. You will also experience a personal level of customer service because we treat every customer as a friend, and every dog like our own dog too.
What super power do you have? 🤣
80% of picky dogs love Pawmeal! (It can never be 100%, so we are pretty happy with our results so far. 😅)
But no la, we are just average hoomans really. At the end of the day, we believe that our difference is offering a kind of fresh dog food that is made with 🧡 and science from scratch (after months and months of consultations with vets, pet nutritionists both local and abroad) that your furkid loves and is good for your furkid's health. We put you at the centre of our services, and we make sure we deliver to the best of our abilities to you.
We are always constantly working to make Pawmeal appeal to every dog, in a healthy way!
What ingredients do you use?
We use only natural ingredients and real meat. (Not the nasty '4Ds' - diseased, dying, dead and disabled animals). We also limit organs to 10% of our recipes, unlike most pet foods who include a lot more organs and count them as 'meats' to lower costs.

Our ingredients are all sourced from restaurant suppliers that are human-grade and ethically farmed. Our beef, pork and poultry are also hormone-free, antibiotics-free and farmed in a conducive breeding environment. We do not add preservatives, by-products, fillers and artificial flavouring. And all the food cooked is cooled, packed, sealed and put in the freezer in less than 2 hours. All these to ensure maximum freshness and so all the natural nutrients can reach your dog's tummy!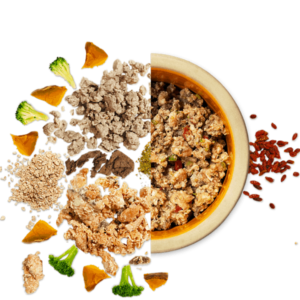 How do I help my dog transition to eating Pawmeal?
You can't hurry when switching your dog to a new food. If your dog has been eating kibbles (dry food) or commercial wet food all along, we strongly encourage a proper transition when introducing Pawmeal (not suddenly change to feed 100% Pawmeal (or any other food) at once).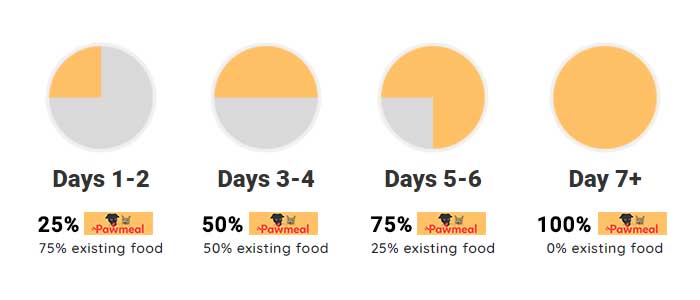 Soft stools are also common when introducing a new food. This is why it is especially important to start slow. (For a start, mix ¼ Pawmeal with ¾ of existing food).

For more details on the transition guideline to full Pawmeal, you can also visit our feeding page here.
How do I feed Pawmeal?
Besides feeding as complete meals, you can feed Pawmeal as a topper on top of your dog's existing food like dry food (making it wetter and have more moisture and nutritious) too!
How does Pawmeal subscription work?
Our Subscription service is meant to bring you the convenience of receiving Pawmeal every month at a discounted price, without having to re-order manually every month! You can enjoy an additional 5% off if you subscribe to monthly subscription which you can pause and renew anytime. You can also enjoy higher discount of 10% off for 3 months subscription and 20% off for 6 months subscription! 😏😆
Can I choose Pawmeal flavours for each delivery? 🤔
Currently, we allow purchase of Chicken Delight, Pork Delight, Salmon Pork Platter or Duck Beef Platter as product listings, for standard 80g or 200g packs. If your dog is picky and want to have a variation of flavours in each delivery, we recommend that you choose the Assorted Mixed Flavours option where we will deliver 4-9 different recipes in each delivery. You can read more about our 8 Pawmeal recipes here.
As long as your dog does not have more than 1-2 food allergies or need to be on a restricted diet, rest assured that we will include as many variation as we can for each delivery!
For the Assorted Mixed Flavours option, can I state my flavour preferences?
Of course! Simple type out your preferences in the "Comments" section on the Checkout page. (The "Comments" section is below the delivery address section).

Our friendly team are also contactable via email, Facebook or WhatsApp. So you can be sure to reach out to us!
Can I just buy your food instead of subscribing?
Yes, of course! Simply choose "none" after selecting 80g / 200g and the number of packs when you are at the product page. It will be a "once-off" purchase.
How does the payment deduction work for Pawmeal subscription?
Subscription payment will be deducted every month on the same day which you subscribe to Pawmeal. Eg. If you purchase the 3 months subscription on 20th February, your subsequent payment will be deducted on 20th March and 20th April respectively.

If you choose 3 months and 6 months subscription, pausing or cancellation of the subscription is not available during the subscription period. If you choose monthly subscription of 5% off, you can pause and renew anytime. 😄
What modes of payment do you accept?
We accept all major credit cards (Visa, MasterCard and American Express) and debit cards (with 16-digit card numbers). We do not accept cash on delivery. If you do not have a suitable card, please email us at hello@pawmeal.com. 🙏
How long can I store Pawmeal for?
We recommend storing vacuum-sealed Pawmeal packs in the freezer not more than 4 months because the longer it is stored in the freezer, the more likely the taste and texture of the food may change. It is best to consume the meals by the best before date stated on the label which is around 2 months after the food is packed to ensure that your dog get to enjoy the meals at maximum freshness and taste. Once thawed and opened, consume within 2-3 days. Do not refreeze thawed meals. 🙅‍♀️
How should I prepare the meals for my dog? 🥣
Just 4 easy steps!

1) Take out meal pack from freezer and let it rest on a table for 5-10min

2) While the meal pack is still cold, break it into half (or your desired feeding portion)

3) Cut open the meal pack and you can push out the meal portion easily into your pup's bowl.

4) Pour a bit of hot water to add some moisture. (good way to take this chance to make some dogs drink some water!) Mix well, and feed.

We have received feedback that it may be challenging to clean up the last bit of Pawmeal left in the pack when it has thawed. So, you can add ¼ cup of warm water into the pack, shake a little then pour into the food bowl. Alternatively, pour out the food when it is still hard and frozen (this will leave the packaging clean!)
Must I heat up Pawmeal?
It's actually optional! If you have a fussy dog, or if your dog has a sensitive tummy, you may wish to heat Pawmeal up and serve them warm. This will also bring out the aroma much more than when it is in a cold state.


We recommend 3 ways!

1) Warm with warm water

2) Make it moist with hot water

3) Steam gently


We do not recommend microwaving Pawmeal though, as the microwave heating process is more damaging towards the nutrients of foods. This defeats the purpose of using natural, good quality ingredients in the first place.
When will my delivery arrive after I made my payment? 📦 (Updated 18 Apr 2020)
Our usual delivery days are on every weekend (from Fridays evenings to Sundays). We will message you during the weekdays to finalise the delivery timeslots for the weekend.

If you need urgent delivery, please let us know by emailing us at hello@pawmeal.com or whatsapp us at our number. We will do our best to accommodate your request and deliver to you earlier or suggest alternative options.
What should I do if I cannot wait until the weekend for Pawmeal to be delivered?
Please let us know by emailing us at hello@pawmeal.com or WhatsApp us directly. We usually propose either self collecting at a mutually convenient time or arranging a special delivery to your place.

There may be an additional delivery fee if a separate delivery is arranged (which will be calculated based on distance according to the prevailing taxi or Grab rates at the requested timings).
Will the meals come delivered in a frozen state? ⛄
Yes, frozen! That's why the meals cannot be left outside for too long. This is perhaps why our friendly delivery men are kinda always in a hurry. They are just making sure every customer receives their Pawmeal fresh and frozen. 😊
What if I am not home during the delivery?
You will be informed of the scheduled delivery date and timing a few days before the delivery to your doorstep will take place. We will do our best to work out a best complementary time for you.

However, should you not be home during the scheduled date and timing, we can either arrange to put the meals into a cooler bag or box that you prepare at your doorstep or arrange for an alternative date for delivery.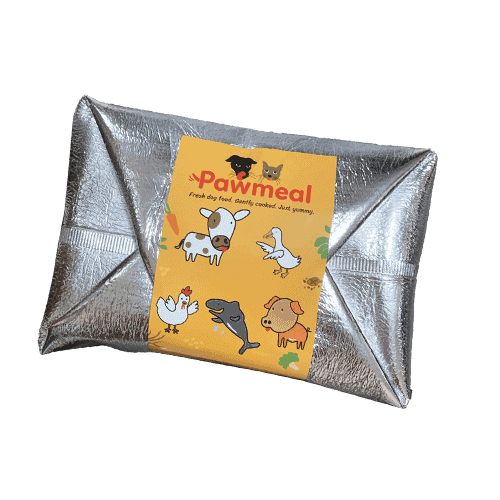 What if my pet has a certain food allergy or intolerance? 🐶
We understand that every dog is different and may have different problems with different ingredients. Therefore, we rolled out 8 recipes to try to cater to as many different requirements as possible. Please visit our menu to have a look at the ingredients for each of our 8 recipes. 😊
My dog has some food allergies, can I still order Pawmeal?
If your dog is allergic to a few ingredients, you can still order Pawmeal in standard packs for your dog, while letting us know the allergens or ingredients to avoid in the comments section on the check out page. We will exercise care to omit recipes that are not suitable for your furkid. You can also check out the ingredients we used in every recipe on our menu page to make sure that the ingredients that we use are suitable for your dog.

If your dog needs to be on a restricted diet with only 1-2 ingredients in every meal or is very picky and would only eat your home cooked meals, you can also consider our Cook It Yourself raw ingredients which we have already helped you with the preparation work. You just have to cook and serve! Great time saver. 😎

Do you offer recipe customisation service to omit or substitute ingredients from your recipes?
At the moment, no. We are at pains in considering offering this service – but taking out or replacing a particular ingredient will "disrupt" the nutrient balance (protein, fats, carbohydrate) in the recipes which we formulated with the consultation of veterinary and pet nutritionist professionals.

If there are absolutely zero recipes that are suitable for your dog, please drop us an email at hello@pawmeal.com – let's talk and we'll try our best to work something out for your dog.
Why provide variety?
Variety is Pawmeal's key focus, and we believe it should be yours too! When we eat different food and feed our pet different food, there are actually 3 benefits:


1) Your dog gets exposed to different ingredients - this means intake of different vitamins, nutrients and minerals. (This can only be good. Imagine if we eat chicken rice everyday for our whole life.. 😥)
2) Your furkid's chances of getting food allergy actually reduces (Yes, risk of allergy reduces!) if you keep rotating flavours and ingredients. (Food allergy usually happens when a dog eats a specific ingredient for too long. His digestive system becomes unable to breakdown the specific ingredient as it is fed the same food everyday)
3) Your dog stays interested longer, because everyday (ok, we mean every MEAL) now will be a surprise to them!
Can I opt for a single flavour every time for my dog?
Yes, you can. However, unless your dog has any particular protein or ingredient to avoid, we hope that you can allow at least 2-3 (or more) flavours to allow for food rotation. (Variety is key!)
Do you offer turkey, kangeroo and other exotic meats?
Currently no. However, we are working behind the scenes to roll out something that we believe will be welcome especially for dogs with food allergies. We need to go through the proper formulation process and hence it will take a bit of time. Please stay around for our updates.
My dog is picky, I'm not sure whether he/she will like Pawmeal?
We hear you! You can now purchase as little as 5 packs of 200g Pawmeal or 8 packs of 80g Pawmeal as trial to see if your dog likes it before committing to bigger orders to enjoy further discount! Do also let us know in the comment section at the checkout page if your dog is on the picky side so we can try our best to see how we can support you along the way. 🙂
What if my dog is very picky?
Picky eaters need lots of patience and persistence (you need to be more persistent than your dog!). One of the most immediate suggestions we offer is to avoid giving in to your dog and remove the bowl once meal time is over (after a fixed time period). You can also read our article here at: https://pawmeal.com/how-to-make-a-picky-dog-eat/

Every dog is different. Do give us a call or message if you face fussy eating issues. We have been addressing numerous picky issues so far and will be happy to share more with you. 😊
Existing medical conditions
My dog has an existing medical condition. What should I do before feeding Pawmeal?
We take every dog's existing medical condition seriously, including terminal diseases or external problems (like skin issues). However, we strongly recommend you to seek your veterinarian's medical opinion first and share as many details as possible regarding your pet's condition.

After understanding your dog's condition, we can then usually recommend certain flavours which may be more suitable for specific conditions, and also to take it slow and ease your dog into Pawmeal and monitor their diet progress along the way.
Can't find your question?
Email us your questions at hello@pawmeal.com - we will be delighted to address your queries. ❤
Your dog's health is what you feed.
You save the time. Your dog will get all the different flavours and happiness. 🧡🐶