Because they are the ones who bring care to their furkids, and their furkids return love to them.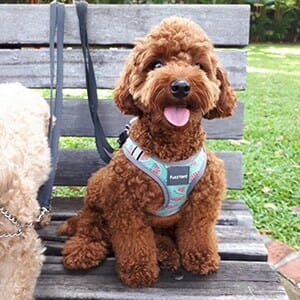 The folks behind Pawmeal have been nothing short of awesome! Miffy has an egg allergy, and they prepared special versions of their standard menus so that she won't miss out. The fresh food arrives in frozen, convenient and flat packaging so it doesn't really take up a lot of space in the freezer either. You won't feel like it's a business or factory preparing food for your dog, you will feel like friends are. 🙂
See what our customers say about us ❤
New content and testimonials will be added regularly. 🐶👇😄
"Yay get to try @pawmeal trial food! Jiejie say she will switch to cook food once i finish my kibble! Welcome me to your team @pawmeal!"
Baby the Pomeranian
"Am glad to find pawmeal in my late dog's final days. He was battling late-stage cancer and was rejecting most food. After exhausting almost all options, I decided to give pawmeal a try. Was really grateful as they made special arrangements to expedite my request. My late dog, Taco finished at least half a packet the same day. Thank you very much."
Taco and Melissa
"Sure like one!! He was licking mouth in anticipation!! I gave him a 1/4 potion yesterday evening and 1/4 this morning. 2 thumbs up from me and four 🐾 🐾 from Mocha"
Mocha the Toy Poodle
"I'm officially a pawmeal baby!! So happy that my pawrents finally subscribed to a 6-month plan of pawmeal toppers for me! Thank you @pawmeal ❤️"
Mo Cha
"Pawmeal's meals are packed with nutrition as they are all made with human-grade ingredients, letting our little ones enjoy the same food quality as we do. My pup always polishes the food off from his bowl quickly. Having tried Pawmeal's meals and treats, my little one is always tempted as he will be very excited every time when he sees the food in my hands."
Toto the Toy Poodle
"Thank you @pawmeal for coming by bright and early on my birthday bearing this gift of chicken feet (with turmeric and basil)! You didn't need to because I love your meals so far! 😉 If you're an extremely picky doggie like me who spits out almost all veggies, you may want to give @pawmeal a try. Veggies are finely minced and each packet contains so much meaty goodness... yums! Plus point is being able to try so many different flavours every month! 👍"
Faith the Papillon
"Kobi, my puppy, transitions to this food easily without any issue. He is crazy for his meals daily that made him excited and happy for his meal. He can smell his food miles away and can't wait 1sec longer for his meal to be warm up. Plus, kobi 💩 is perfect & good."
Kobi the Beagle
"Pawmeal is amazing. My 3 year old pug has a liver shunt since young and we've been maintaining her health by feeding her less proteins and supplements. All her meals are freshly prepared raw or homecooked meals. The preparation required takes some time, especially when we're rushing out for work in the morning. In hopes to make it more convenient for us, we approached Pawmeal and Jiaying came up with several solutions Pawmeal can provide to cater for Butter's low protein diet. It's truly well customised for Butter's health. The customised meals' price was reasonable for us too - we've been feeding Butter ourselves, we know how much it costs a month to feed her with NTUC vegetables and meat from reputable providers, Pawmeal is a great deal. Most importantly, Butter loves the meals! She gobbles it down so well I'm so glad I approached Pawmeal."
Butter the Pug
"My fussy dog loves the food and has better health after eating Pawmeal! The poop is no longer laosai type after eating. I can save time on making home cooked food and this is really easy meal with lots of nutrition!"
Wawa
"Look at my little paw reaching towards @pawmeal 's home cooked food for picky dogs like me. How to not crave for home cooked food when you're home right?"
Hiro the Shiba Inu
"Can't wait to indulge in these pawsome meals!"
Nobelle the Pomeranian
"Thank you @pawmeal for a pawlicious food for Didi. Sorry for some shaky picture 🤣 he just really can't wait to eat it. 🥓🍗"
Didi
"Will sit for some @Pawmeal!"
Luna the Black Pug
"Cookie waiting in anticipation for Pawmeal!"
Cookie the Shih Tzu
"Yummmooo!"
Handa and Meimei
"Hello! Gucci enjoyed every last bit of the food! Omg. Never seen her seen so enthusiastically in a long time. Thank you! Gucci loves Pawmeal 🤣 I like how it comes with some enticing powders as well in case she has no interest in the food! Very very thoughtful! Glad I chose Pawmeal out of so many others!"
Benjamin and Gucci
"Dinner from @pawmeal ready to be served 😛"
Talya and Jiaying
"My furkid Tom was diagnosed with bone cancer on his right leg. The doctor told me that he only had a few more months. The doctor advised me to feed him with only home cooked food. But Tom stopped eating our HCF after 2 days. I'm very upset. Yesterday, I received a message from Pawmeal (which I just placed order a few days ago) that I will receive Tom's food earlier after I told Shay about Tom's condition. To my surprise, Tom actually finished up all his food ( 2 meals a day) and even starts to walk. I am very grateful to Shay and his Pawmeal team. Thank you very much and keep up the good work. 🙏😊"
Tom the Mini Schnauzer
"Thank you Pawmeal for the wonderful birthday cake for my Happy's 1st barkday! Grateful that I got such great recommendation from my friend. My Happy loves the cake so much!! Thankful for your time and effort in making this healthy and nutritious cake. Do support them!!"
Happy and Ferlyn
"Pawmeal Duck Feet with Ginger ❤"
Fifi the Jap Spitz
"Bought the biscuits for my friend's dogs and they loved it! Chomped down 1 packet within a few mins!" Jennifer
Jennifer
"@Pawmeal Cranberry Hearts ❤"
Latte the Pug
".. when I gave my dog Pawmeal's snacks, I've never seen my dog so happy in a damn long time (over food). I'm immediately sold."
Toffee the Pomeranian
"Hear that crunch @Pawmeal"
Beann the Toy Poodle
Videos of #pawmealdogs eating ❤
Your dog's health is what you feed.
You save the time. Your dog will get all the different flavours and happiness. 🧡🐶