Hello! We have some news to share here regarding our fresh food products and pricing model.
We have been very honoured and grateful for your support all this while. It is our mission to make every dog happy and healthy, and we will continue to work hard to improve our service and offerings to you and your furry friend. 😊
The attention this year is shifting towards rising costs. Since late last year (2021), we have been adopting a cautious approach and decided to maintain our prices as long as we can. This year alone, there have been multiple events relating to rising costs: Announcement of GST increase in 2023, shortage of pork and vegetables and now chicken supply is affected as well. We are also aware that most businesses (including pet food sellers) have increased their prices already by now.
However, we have reached a point where we have to study our current pricing model. This comes after our ingredient suppliers have just increased their prices to us for a fourth time since the middle of 2021. We would like to share this information with you, and we believe we have made a move that is reasonable after working out the details the past month. (The info we will be sharing below are not just price-related. Some are adjustments to the way you will be ordering in future 🙂).
Important Information at a Glance:
1) Number of meal packs adjusted to align with the delivery schedule.
2) Pawmeal "per pack price" remains the same for assorted meals.
3) Ala carte bulk purchase discounts will be adjusted from 5-20% to 3-15% off.
4) Introducing 12-months subscription plan and adjustment of subscription plan discount from 5-20% to 3-15% off.
5) Existing 3-month / 6-month subscribers will continue to enjoy the existing subscription price till the end of the subscription duration. New or renewal subscriptions will be based on the newly adjusted subscription plans.
Adjustment to Number of Meal Packs
We hear your feedback that you kept having extra packs upon each delivery. As a result, with effect from 20 Jun 2022, we will be adjusting the number of meal packs you can order to align with our delivery schedule!

Prices Stay the Same for Assorted Flavours
Yes, you hear us right! The original price of each meal pack will remain the same for assorted flavours. 80g options for all meal options will also remain the same! You will only be expecting a $0.30/pack increment for Classic and Premium 200g meal packs! This will be updated with effect from 20 Jun 2022.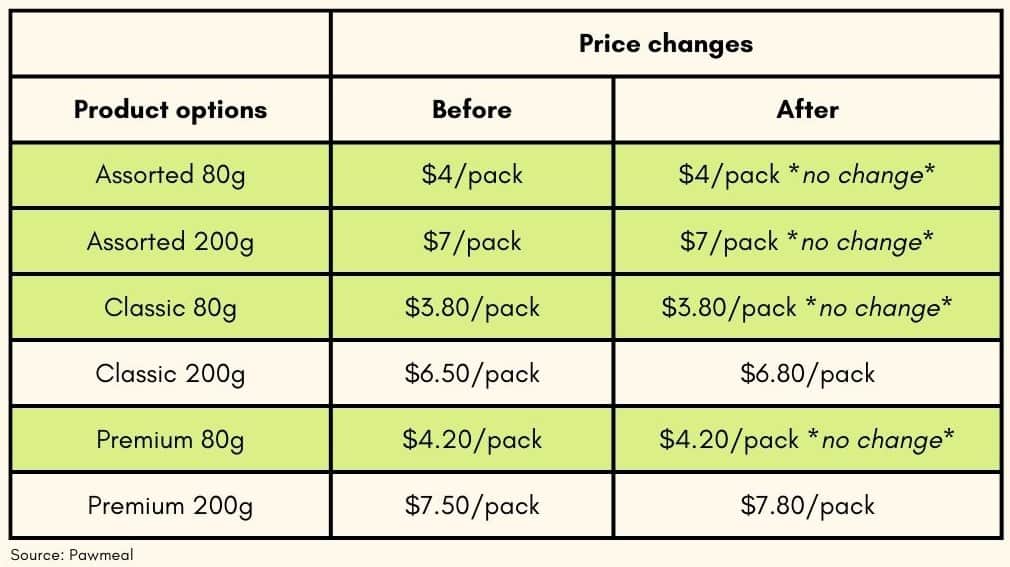 Ala carte Discount Adjustment
Since last year, our ingredient costs have risen by up to 20%. We have been trying to keep our prices the same and absorbing the costs because we know it has been a difficult period for many of us. We have studied our current pricing model and will be making some discount adjustments.
At this point, we hope to stay sustainable so we can continue to serve you and your fussy dogs with our meals. We are happy that for smaller order purchases (<10packs), we can keep the price the same as before. As for bulk purchase of ala carte orders, there will be a small adjustment to the discount yet still remain competitive in terms of our pricing! This will be updated with effect from 20 Jun 2022.

Introducing New 12-month Subscription Option and Subscription Discount Adjustment
We continue to pride ourselves over our subscription plans and will continue to offer you stackable discounts on top of the ala carte bulk discount because we love to give you more cost savings! We will also be introducing a 12-months subscription plan so you don't have to keep renewing your subscription every few months (yes, we hear you too)! Below are the adjustments (with effect from 20 Jun 2022).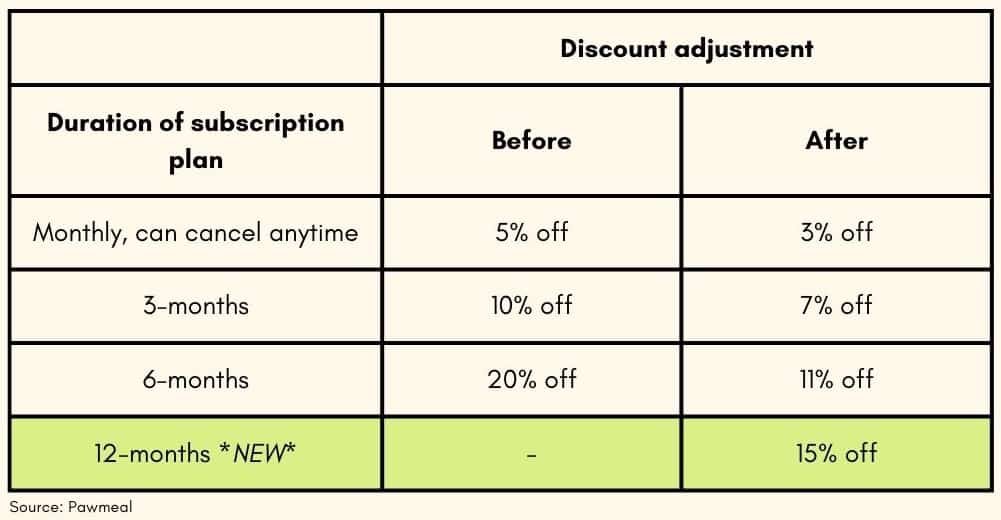 For Existing Subscribers (IMPORTANT)
We value you as our regular supporter and your existing subscription will continue to enjoy the previous pricing till the end of the subscription (3 or 6-month) before you decide on the new subscription plan. For month-to-month subscribers, the pricing will remain the same till September 2022.
What to Expect During the Transition?
You will receive an email notification to renew your subscription. While you may encounter an error message when it comes to renewal because the existing subscription will no longer be the same as before, you will have to purchase a new order and subscription plan. We will give you the autonomy to choose and decide how many packs of Pawmeal you need monthly based on our new options and the subscription plan to be in! 🙂
Thank You For Your Support
Thank you for all your support and we hope our service and meals have met or surpassed your expectations so far! If we have fallen short in any way, we promise we will continue to work harder and improve your experience.
If you haven't given a review, we hope you can spend a minute or two to give us a review in Google or Facebook to show us some love too! 🧡 (Do give us a like on our Facebook page too if you haven't 😊) Every review means a lot to us and helps us deliver better. Looking forward to offering you guys more meal options in time to come to your furry friend! 💪🏻❤️