We'll be journeying over to the West this weekend to Jurong to participate in the Weekenders' Market! This will be our second pet event since the Covid-19 restrictions have eased a few months ago. 😊 And we're very excited to be stepping into Jurong Play Grounds this time round, for the very first time!
The Weekenders' Market will happen across 2 days this weekend, on the 22nd and 23rd Oct 2022. It is a combination of Markets, comprising of Farmers' goods as wells Makers' items! But this Oct edition has the additional "pet" element in it, with quite a number of pet products / businesses featuring too! That's why we're curious and looking forward to be a part of it as well!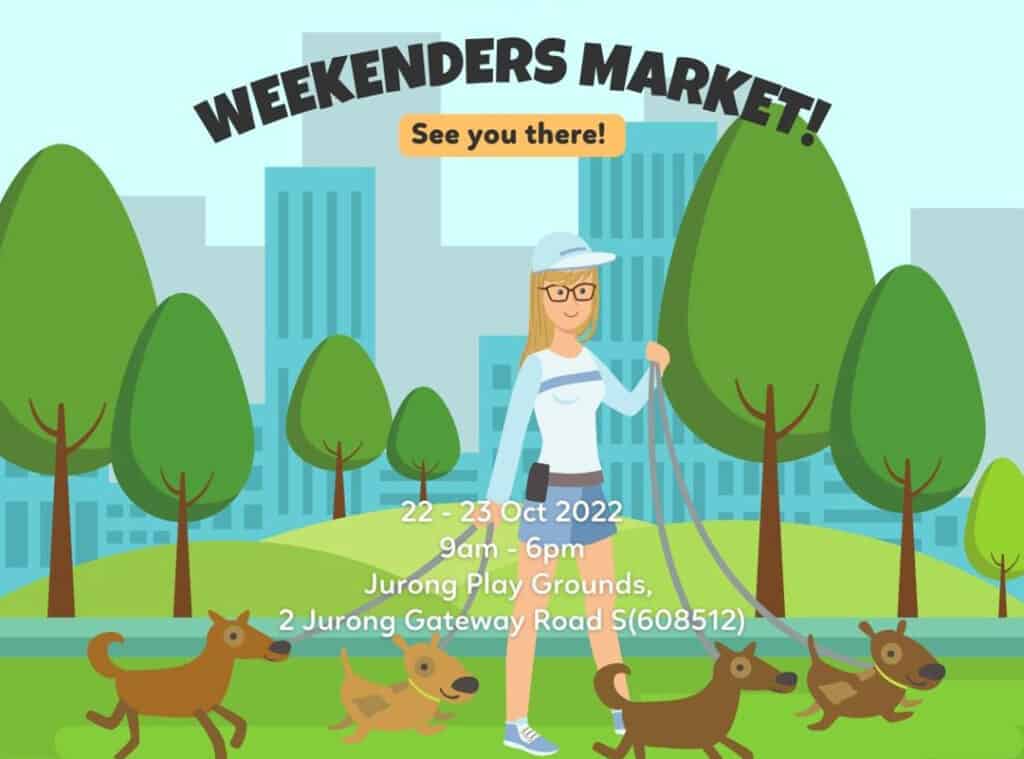 What the Weekenders' Market focuses on
The Weekenders' Market celebrates artisanal arts and crafts, produce from local farmers from their Community Garden, child care, pet products and many more! From what we understand, the organisers behind this market is very eager to work with local businesses and producers, too!
Specially prepared (limited quantities) fresh dog treats for you
We have prepared 2 new flavours (treats) specially for the Weekenders Market! 🤗 These 2 flavours will not be available for purchase in our website (treats section), and will only be available during the event! They are:
Dehydrated Chicken Jerky with Turmeric
Dehydrated Beef Jerky with Turmeric
Our treats are all made from fresh ingredients from our own kitchen by ourselves. We DO NOT repack from overseas treat suppliers, and that makes us even more sure about the origins and contents that goes into making Pawmeal fresh treats!
And of course, there will be Pawmeal fresh food for tasting during the Weekenders' Market too. 😉😏
Where will Pawmeal be located
We'll be located at Zone A, Booth 17 on the *22nd and 23rd October 2022, from 9am to 6pm! It's next to the big car park and within the "World Farm". 😊 There's actually A LOT of zones planned out for the 2 days, so you will have a "pasar malam" feel when you step into Jurong Play Grounds!
*Note: We will be coming over after Pawmeal's usual weekly deliveries in the mornings on the 22nd Oct 2022, so may arrive slightly later. But there'll still be many other things around to see and walk walk with your furkid!
Details of Weekenders' Market by Jurong Play Grounds
Date: 22 and 23 Oct 2022
Time: 9am to 6pm (both days)
Address: Jurong Play Grounds, 2 Jurong Gateway Road, Singapore 608512
(Once more, gentle note that we will be arriving slightly later on the 22 Oct 2022 due to our usual Pawmeal delivery duties!)
If you have time this weekend, why not bring your furkid to come walk walk in the Weekenders' Market at Jurong Play Grounds? We're very excited about this weekend, and looking forward to see you there! 😘
You can also find out more about our fresh food over here. 👈🥰