Happy Again Healthy Hips and Joints Support for Dogs
$118.00
Happy Again's unique formula with glucosamine for dogs is combined with the highest-grade hydrolized collagen, hyaluronic acid and vitamins. It's the best choice to give your pet. Just sprinkle over their food daily.
IMPROVE MOBILITY – Formulated to support joint health. Use HAPPY AGAIN with young dogs to keep joints healthy as they age.
COLLAGEN – Highest quality of hydrolyzed collagen from Germany helps induce the production of cartilage, keeping joints elastic and mobile. Protects skin and coat.
GLUCOSAMIN – Aids with supporting healthy cartilage and increasing maintaining fluids around the joints.
HYALURONIC ACID & VITAMINS – combined with our core ingredients to produce the highest quality formula. Highest concentration of active ingredients among brands in category.
100% SAFE. TESTED & APPROVED – Sourced and manufactured in Germany adhering to strict production standards.
Net weight: 400g in powder form
Related products
Jubilant Pets Colloidal Silver is a natural alternative for antibiotics and steroids for your pet's skin healing. Colloidal Silver is a negatively charged solution effective in treating various problems as it interacts with positively charged single-cell microorganisms/bacteria by disrupting the functions of these microbes.
30ppm. 200ml Spray.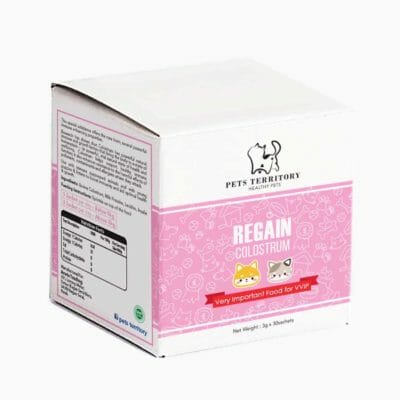 Colostrum is low in fats, high in protein and antibodies which promotes healthy immune support; it also enhances resistance to the harmful effects of pollutants, contaminants and allergens. Supplements are individually packed in sachets for easier feeding and to ensure optimal quality when fed. Powder form: 3g x 30 sachets
100g Pawmeal Essential Nutrient Blend is a unique blend of 5+1 different ingredients. All Pawmeal recipes comes with a measured amount of this golden green monster to make the recipe more comprehensive and balanced. We use organic chia seeds, organic flaxseeds, organic kelp, pumpkin seeds and turmeric powder. (Organic coconut oil needs to be added separately). It is an immune booster supplement for cooked dog food or raw diets where every ingredient is selected for its health benefits and nutritional content essential for your dog's healthy growth! You can also get them and add into your dog's existing food too!